The Project House
In the following you will find the core features of the project. If you are more interested in the why, go to the vision. If further questions arise, check the FAQ.
The vision
Frequently asked questions (FAQ)

The project was launched in April 2018
SoKüWi - The solidarity kitchen economy
This means that people cook, eat and clean together. Free of exchange logic and voluntary.
With the motto: Vegan, full, saved -> mindful and understanding.
The gastro kitchen is versatile and beside the SoKüWi can also be preserved, boiled down and refined. Workshops and skill sharing are also taking place more and more.
Exchange-Free Logic - What does that mean?
Exchange-Free Logic is a needs-oriented system based on strengths and weaknesses, and also abilities and wishes. We are human beings and humans have feelings and are not meant to be a machines. Sometimes we feel good, sometimes bad, that's okay. Sometimes we can give more, sometimes we need more. What is important is communication, spaces for it, and trust.
Exchange-Free Logic does not mean free of money. We have costs and with money we can start and join/support great projects. You can find more about finances here.
Exchange-Free Logic is only one point of our vision and how we try to realize it. If you want to know more ...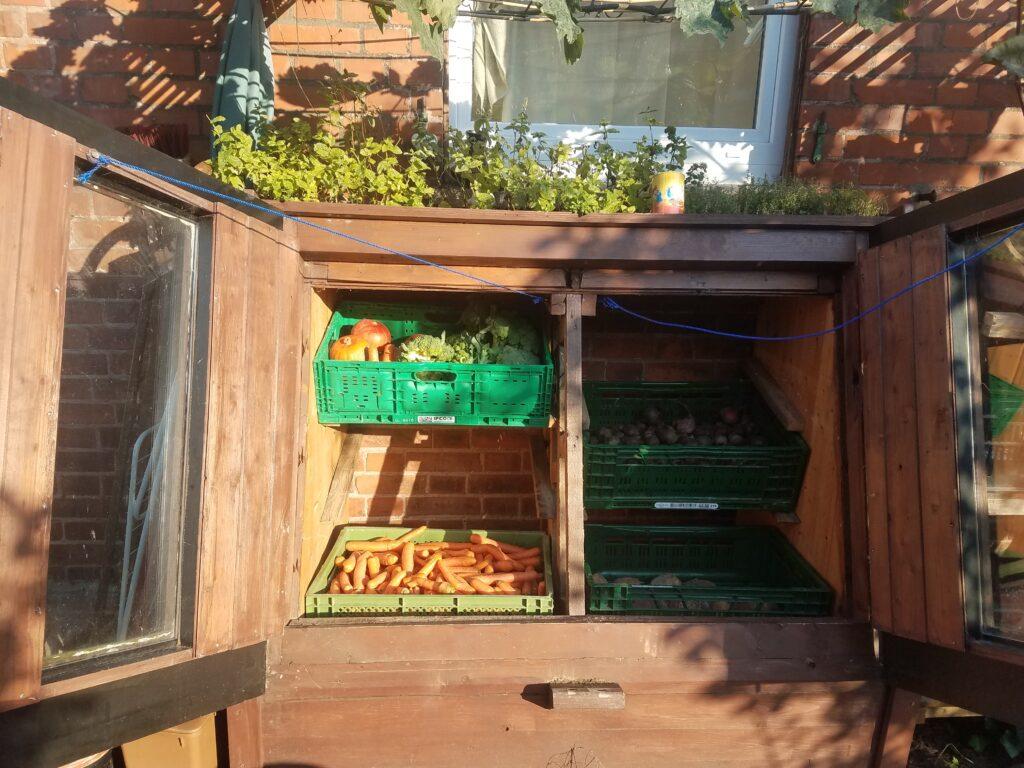 BIO Vegetable Fair Divider
Based on Foodsharing, we have installed a pure organic vegetable distributor in front of the T36. This is publicly accessible and free of charge. There is a donation box if you want to give a compensation.
The vegetables are either provided by the Permaculture park in Lebensgarten Steyerberg (PALS) or saved by a nearby organic vegetable producer. Sometimes vegetables/fruit from private gardens are also included.
The vegetables are picked up emission-free with electric cars from the local e-car sharing. Thank you very much for the free provision and support.
Mindfulness and understanding
We have learned in recent years that while mindfulness and understanding is conscious to most and is also the name of our supporting association, the practice is usually different. We are all on the way.
Our society trains us strongly on the "I" and less on the "we". But how do others feel if I am not careful with them and our common environment?
A few examples:
If I don't clean up, someone else has to do it.
If I break something and don't fix it, it stays broken or someone else has to fix/pay for it.
If I use electricity, gas (heating, hot water), or water, then it costs us (the project) money.
Actually it is self-evident, but always a reason to communicate and sit down together.
We have developed a mindfulness sheet for the T36 that lists many of these points, and with the "Frequently Asked Questions/FAQ" we hope to explain more and facilitate understanding.
A guiding principle: Please leave any place wherever you are a little better than you found it if possible. In this way the world will become a better place step by step through you.
A few more ideas on the way:
Put yourself in the place of others - Don't ask questions and don't speculate - Be clear, direct and honest - Take your time, listen, feel and be flexible
You will notice that many doors will open to you and your life will become more worth living.
Social room
The T36 offers a CoWorking/CoBeing room. Here you can …
… be.
… initiate and participate in other meetings and meetings.
… listen to music and dance.
… paint, do handicrafts or be with children.
… use free internet.
… use free computers.
… offer film evenings, cuddle evenings or the like.
Individual room
In community it is important to assess oneself well and to reflect on oneself so that one does not go beyond one's own limits. For this you can go to the healing room …
… to rest.
… to meditate.
… for doing Yoga or sports.
… to make music.
… to performing ceremonies.
… to receive/offer massages, treatments or similar.
… to share proximity.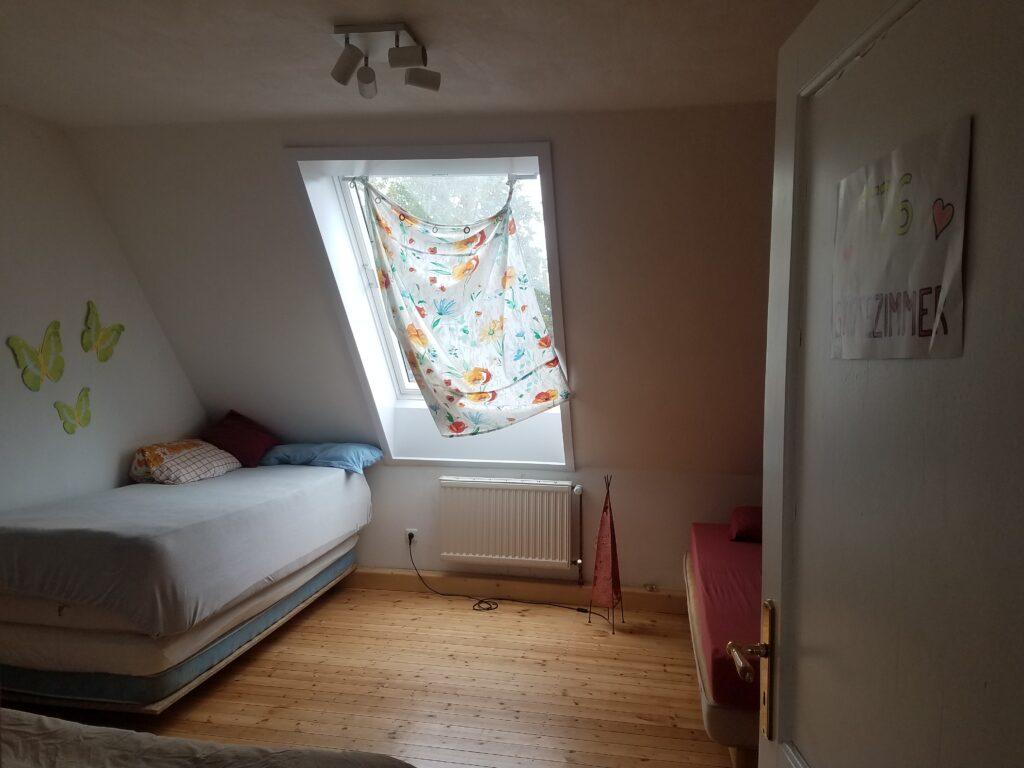 Overnight stays
What sounds easy is a long subject for us. In the T36 is a multifunctional room, which is mainly used as a group bedroom/room for project participants. We would be happy to offer interested people overnight stays in the house, but this is only possible if you are a participating person in the project or in a seminar. How this can look like, you can find here.
If you would like to get to know the Lebensgarten, please contact the guest room management for the ecovillage and visit the T36.
As a joint project, such a project naturally only works with the many people who fill it with life and participate. At this point, a big thank you to all the people who have already contributed and who do it again and again! The following people live in the house and are currently "wearing the hat".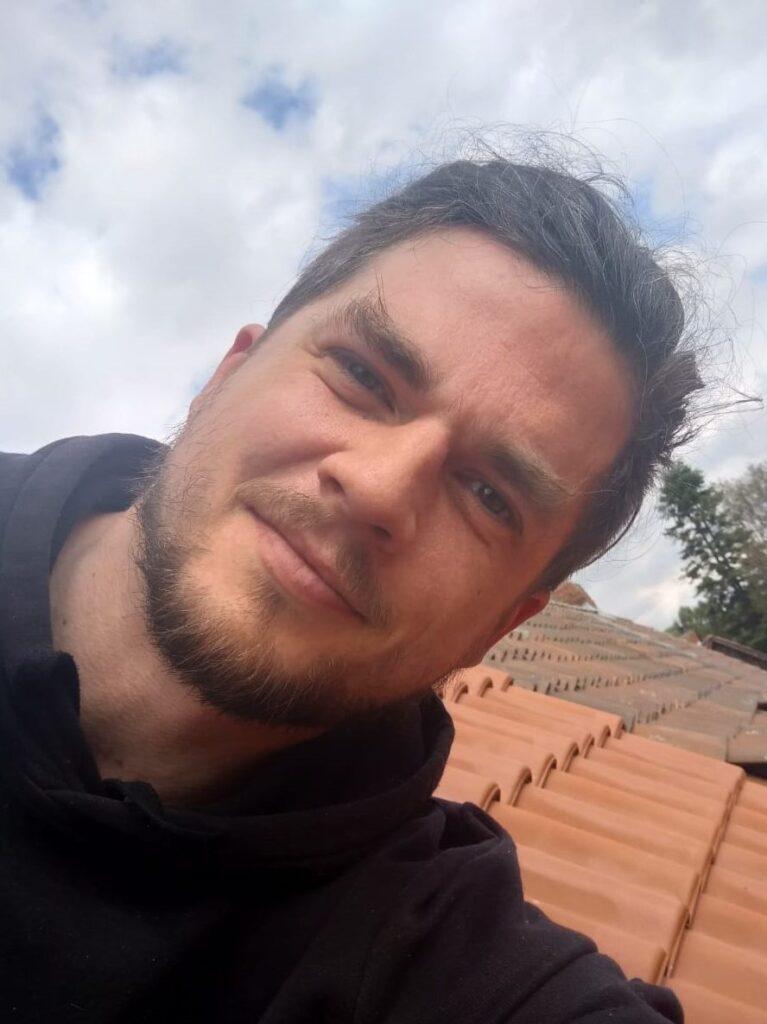 Matthias Drees
Lea Habben
A few comments on the T36
"Ich hatte die Möglichkeit einen Monat lang die Projektleitung zu übernehmen und mich mit der Verantwortung und dem Vertrauen dieser Aufgabe zu beschäftigen. Diese Zeit hat mir viele Erfahrungen ermöglicht und ich nehme eine Menge mit."
"I am very inspired to find better ways to shift the social status quo from a space of scarcity into a space of abundance. Let us make a positive impact in the world."
"Ich bin dankbar für diesen Ort, wo ich einfach ankommen (und wieder weitergehen) kann und wo es Raum für Begegnungen gibt."
Interested in supporting the project?
On the one hand you can support the project financially. Of course we have to pay rent and utilities , so money is needed. Furthermore we also have costs for maintenance and repairs. On the other hand you may come and visit and grace us with your illustrious presence and be a part of the revolution in action !
There's quite a lot of stuff here and the pictures look promising, but how is it in real life? How does it feel and what do you see only at a second glance? What will become of it, if you participate?
There are several ways to arrive at T36 and seemingly endless possibilities within the T36. Here are a few concrete ones, see what suits you: